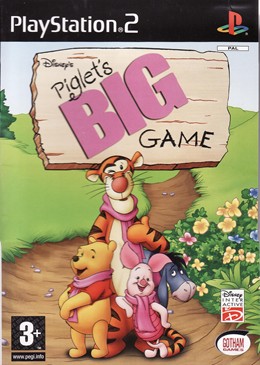 Disney's Piglet's Big Game
is a 2003 action-adventure video game by Gotham Games, Disney Interactive Studios and Doki Denki Studio. The game centers around Piglet and how he tries to show how he can help. The game is based on Piglet's Big Movie.
Characters
Edit
Playable Characters
Piglet
Winnie the Pooh
Tigger
This game primarily features Piglet going into his friends' dreams and scaring "Heffalumps" & "Woozles" to help his friends collect valuable items.
The game starts with Piglet observing Pooh reaching for a bee hive, Roo reaching for a ball that is caught in a tree, Owl trying to remember where his memory book is, Rabbit planting his carrots, Eeyore having his usual gloomy days, and Tigger painting his house to look like him.
Piglet sees a shadowy monster called the Granosorus and is scared of it, but it disappears before his friends can see it. Even Christopher Robin does not believe him. Christopher tells Piglet to overcome his fears, but Piglet says that heroes are supposed to be big and brave, and since he is the opposite, he realizes that he will never be a hero. Piglet leaves the Hundred-Acre-Wood as his friends start to fall asleep doing what Piglet saw them doing. Piglet magically enters their dreams and begins to help them find their missing items. After helping them all, the Hundred Acre Wood get flooded and Piglet attempts to save his friends, who are trapped on islands with Heffalumps and Woozles. Once Piglet rescues everyone the Granosorus appears, but Piglet was able to scare it off. Christopher Robin comes and after learning about their adventures he gives everyone a picnic to celebrate Piglet's bravery.
Winnie the Pooh's Dream
Roo's Dream
Tigger's Dream
Rabbit's Dream
Eeyore's Dream
Owl's Dream
The Blustery Day
Cutscenes
Voice Cast
Edit
John Fiedler as Piglet
Jim Cummings as Winnie the Pooh and Tigger
Nikita Hopkins as Roo
Ken Sansom as Rabbit
Peter Cullen as Eeyore
Kath Soucie as Kanga
Andre Stojka as Owl
Michael Gough as Gopher
Tom Wheatley as Christopher Robin
Laurie Main as Mr. Narrator
Voice Sounds
Edit