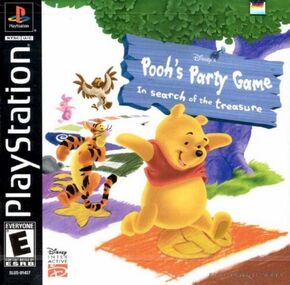 Disney's Pooh's Party Game: In search of the treasure
is a 2001 video game. A game starring Winnie the Pooh and friends. Play Mario Party style games as you guide your favorite character from the 100 Acre Wood around the board to victory. Games include the Bomberman-inspired Tigger's Thunder and Frightening, Rabbit's Roller Racers, Piglet's Pumpkin Hunt, Owl's Fruit 'n' Hoot and Pooh's Pinball Party!
Gameplay
Edit
Join Winnie the Pooh an exciting adventure in search of lost treasure! Invite your friends to join the fun--play lots of games with each other (and play silly tricks ON each other!). A good time is sure to be had by all--just remember to watch out for Woozles and Heffalumps!
Adventure through board games packed with exciting mini-games: have a Pinball Party, race Roller Racers, collect pumpkins, and much, much more!
Pick-up-and-play fun, on your own or with up to three friends
Play as Pooh, Piglet, Rabbit, Roo, Owl, and even Tigger!
Characters
Edit
Playable Characters
Winnie the Pooh
Piglet
Roo
Tigger
Rabbit
Owl
Description
Edit
Disney's Pooh's Party Game is a board game for up to 4 players based on Disney's The New Adventures of Winnie the Pooh animated series. The game starts when Owl discovers a treasure map, but in unfortunate turn of events the map gets glued to Gopher's back while he is chased by the swarm of bees. To get the treasure map the player needs to follow Gopher across the game board.
The squares on the board contain mini-games, honey pots or other surprises. When the player's character lands on a square, he then must participate in a mini-game, and success or failure will determine how many steps he'll advance on the game board. It is also possible to buy the steps for a certain number of honey pots. The mini-games include kart racing, a pinball game, fruit collect-a-thon, a Bomberman-like game and so on. The players can choose to control one of their favorite characters: Pooh, Piglet, Rabbit, Roo, Owl or Tiger.
There's also Quick mode which lets up to 4 players play any unlocked mini-games against each other or AI straight from the menu.
Voice Cast
Edit
Jim Cummings as Winnie the Pooh and Tigger
Steve Schatzberg as Piglet
Nikita Hopkins as Roo
Ken Sansom as Rabbit
Peter Cullen as Eeyore
Andre Stojka as Owl
Michael Gough as Gopher
Brady Bluhm as Christopher Robin
Laurie Maine as Narrator
Voice Sounds
Edit
Disney's Pooh's Party Game: In Search of the Treasure / Voice Sounds