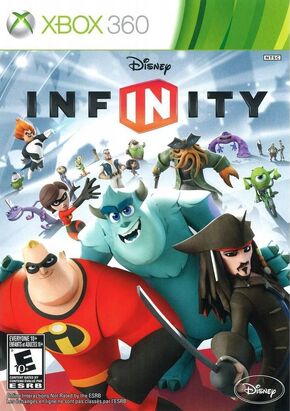 Disney Infinity 
is a Disney video game crossover between various Disney characters and franchises, including the more recently Disney Pixar, Marvel, and Star Wars, as all of those mentioned are owned by Disney.It is comparable to Skylanders and Nintendo's Amiibo in that plastic toy figures are put on the video game console and the character of the toy appears in-game.It is also possibly ment to compete with Skylanders.
The game is more of a sandbox game, where the player can put and rearange objects in a large enviroment.Although various story modes and missions exist, the sole gameplay is the free world of a sandbox game.The player can build anything they want, like races, cities, or anything, really.It is similiar to Toy Story 3: The Video Game in that there is a limited story mode where the player has limited actions toward the enviorment,but has a sandbox mode where the player can do anything they want.
Original "1.0"
Edit
The original version of Disney Infinity supported only the first wave of toy figures, from Disney and Disney Pixar.
The 2.0 version now supported the prevesly released Disney and Disney Pixar figures, but now new figures from Marvel franchises like Spiderman, Captain America, Hulk, and more.It also supported new Disney and Disney Pixar figures released in this time period.
Version 3.0 is an upcoming version that now supports newly released Star Wars figures,new Marvel figures,and new Disney and Disney Pixar figures,and also ones from 2.0 and "1.0".The Star Wars figures from Lucas Arts include many characters from The Clone Wars, the original films, the prequels, and possibly more.
Artworks
Edit
Disney Classic 1
Edit
Renders 3D
Disney Classic 2
Edit
Renders 3D
Voice Sounds
Edit