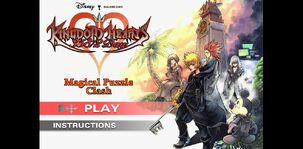 Kingdom Hearts Magical Puzzle Slash is an online game based off the Kingdom Hearts(series).It was made to promote the then-upcoming Kingdom Hearts 358/2 Days.It is not canon to the series of the 358/2 days.It is currently the only Kingdom Hearts flash game on Disney.com.
Playable Characters
Edit
Instructions
Edit
Worlds are incorrectly called as realms.
The instructions incorrectly call Organization 13 as Organization 7.
References
Edit