Megazord Firestorm is a Power Rangers S.P.D. flash game on Powerrangers.com,although it was originally on Jetix.com.In the game,you try to defeat the enemies,maintain health,and controlling the fire.If the fire bar finishes,or if your lose all your health,the game will end,The game goes on infinitely.You move on to the next level when the fire bar goes completely down and your megazord survives.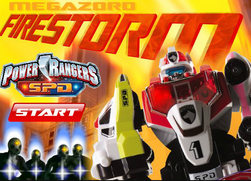 Gameplay
Edit
The game uses only an average computer/laptop mouse to play.Move around the mouse to move and press the left click to shoot water or lasers.Press the spacebar key to switch between shooting water blasts or laser blasts.Use water to clear out the fire,and use lasers to wipe out the enemies.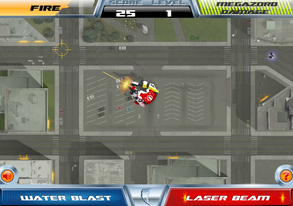 Alternatively,you can click on the water and laser buttons on the bottom to switch modes.
Game Over Screen
Edit